25/05 14:38 CET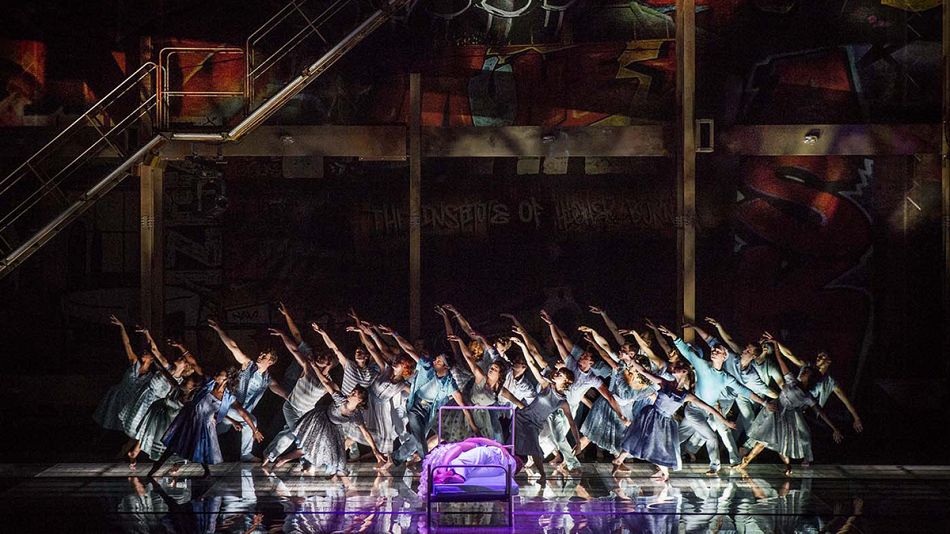 THE POWER OF THE VOICE. In the art of opera, the voices of solo singers and choruses unite with the work of composers, librettists, directors, conductors and orchestras to create unique lyrical and dramatic compositions
'West Side Story'
Broadway comes to Salzburg
Philip William McKinley is known as a director of large-scale shows. The musical spectacular ''ShowStoppers'' at Steve Wynn's Encore resort in Las Vegas is his latest, and he took over ''Spider-Man: Turn Off the Dark,'' replacing Julie Taymor, in 2011 until the show closed in January 2014. But, as Cecilia Bartoli, the artistic director of the Salzburg Whitsun Festival, points out, he is also a classically trained pianist and opera singer, having performed at the New York City Opera in the 1980s when it was run by Beverly Sills.
So he should feel at home in the huge space of the Felsenreitschule — built in 1693 as a summer riding school for the prince-archbishops of Salzburg and used by the Salzburg Festival as a theater since 1926 — where a new production of ''West Side Story'' will run May 13 and 15, and Aug. 20-29.
''He has done amazing things in unusual spaces,'' says Bartoli, ''such as 'Ben Hur Live,''' which premiered in 2009 at the O2 Arena in London. Much of the core creative team for that show — the choreographer Liam Steel, the lighting designer Patrick Woodroffe and the costume designer Ann Hould-Ward — are also developing ''West Side Story'' with McKinley. The stage designer, George Tsypin, who was the artistic director and production designer for the opening ceremony of the Olympic Games in Sochi, Russia in 2014, has had a relationship with the festival for more than 20 years.
''They are all equally versatile in opera, theater, rock concerts and mass shows all over the world,'' says Bartoli. But she also points out that the focus is not only on the spectacle of the show: '''West Side Story' occupies its own territory between opera, operetta and musical.''
Like ''Candide,'' which Leonard Bernstein was composing at the same time, the show not only ''incorporates light music and jazz, but also classical and even contemporary music,'' says Bartoli. ''Or, as Bernstein said, the chief problem is to tread the fine line between opera and Broadway, between realism and poetry, ballet and abstract and representational dancing.'' And ''West Side Story'' has the additional element of Latin music in the mix (it was also a hit, unlike ''Candide'').
The direction and choreography were by Jerome Robbins, and his inspiration guides McKinley and Steel in their conception of the new production, along with the show's themes, which were also innovative for Broadway. Although Robbins and Bernstein — along with the third collaborator, the playwright and director Arthur Laurents, who wrote the book — based the story on Shakespeare's ''Romeo and Juliet,'' they brought the story into contemporary New York of the 1950s.

Philip William McKinley, director of the Whitsun Festival's ''West Side Story''
Credit: Glenn Grayson
That aspect of the work will be important for McKinley's staging. ''At the time,'' he says, ''in '57, it was very violent and gritty, and I'll want to bring that aspect to the forefront of our production. It's not a light musical comedy — it's a dramatic piece, which is why it works so well in an opera house. I think we deal with more dramatic pieces in an opera house — pieces that are bigger emotionally.''
The director notes that the story of rival clans and star-crossed lovers bears many interpretations — he notes a modern-day ''particularly gothic'' production recently by the Komische Oper Berlin and a 1998-99 production in Japan by the Takarazuka Revue, an all-female troupe — but he is keeping the original rivalry between the white Jets and the Puerto Rican Sharks.
Of the show's creators, he says it's not a question of ''copying'' their staging, but rather looking into the reasons for the choices they made: ''You find out why they did what they did. What was their approach? What was their sensibility? Then you take that into the contemporary world. What will create that sensibility for today's audience?''
Ethnic tensions and xenophobia are problems that resonate in contemporary society, he adds. He notes that he has been struck by the particularly divisive atmosphere in the United States during the presidential campaign. ''Those themes are all occurring again in our society,'' he says. Europe, too, has seen similar reactions to its Muslim population, especially after the recent influx of asylum seekers and other migrants from the Middle East.
The ''grittiness and animosity'' of the divide that Tony and Maria are trying to bridge calls for a very physical approach. ''That's one reason why I was so delighted that Liam Steel is the choreographer,'' he says. ''His choreography comes out of a very athletic sensibility.''

Gustavo Dudamel will conduct the Simón Bolívar Symphony
Credit: Richard Reinsdorf
He is enthusiastic about the choice of Gustavo Dudamel, who will conduct the Simón Bolívar Symphony Orchestra of Venezuela. ''You're looking at a gentleman who mirrors the passion, intensity and vitality that Bernstein had,'' he says. ''Gustavo has this unbridled passion and spirit that so matches this music. He feels it. The Latin part of it is his home, his inner soul.''
Bartoli was insistent on having a proper orchestra, ''rather than 10 to 12 players and some synthesizers, as has become the rule for touring productions,'' she says. Dudamel and the orchestra he leads were an obvious choice, she adds.
The 35-year-old conductor is also a good fit for the themes of the story McKinley highlights. He, and the Simón Bolívar orchestra, are products of Venezuela's El Sistema, which offers free music education to disadvantaged young people. Dudamel consistently makes the point that music is a force for positive social change. Dudamel and the Los Angeles Philharmonic, where he has been artistic director since 2009, also have a Sistema-inspired program, and in February Dudamel took the Youth Orchestra LA to the Super Bowl to perform with Beyoncé, Bruno Mars and Coldplay at halftime.
McKinley is ''excited and honored'' to be part of this show, and he credits Bartoli's vision and willingness to take artistic risks. ''It's terrific to find someone who is that open and adventurous,'' he says. ''She's absolutely fearless. I think that's one reason she's so brilliant. I respect her ability to fling open doors to new ideas.''
'''West Side Story'' occupies its own territory between opera, operetta and musical'

A new production of ''West Side Story,'' starring Cecilia Bartoli as Maria, is the centerpiece of this year's Whitsun Festival
Credit: Silvia Lelli
Choreography
A fresh approach to landmark dance
Along with its dark, urban atmosphere and themes, contemporary social commentary and artful music, the 1957 Broadway musical ''West Side Story'' was notable for its use of dance as a theatrical and storytelling element. It was Jerome Robbins who enlisted the composer Leonard Bernstein and the writer Arthur Laurents into developing the show. Robbins was credited for its conception and created its choreography, for which he won a Tony Award (he also shared the best-director Academy Award for the 1961 film version, which won best picture and nine other Oscars).
How much does Robbins's work influence a choreographer working on a new production, as is Liam Steel, the choreographer for the Salzburg Whitsun Festival's show? ''You can't get away from it,'' he says. ''That's a saving thing, but it's also what you're battling against all the time. For years and years, you just did Jerome Robbins's original staging. When you can do fresh choreography, you think, that's fantastic, the freedom! But the second thought is, how do you reinvent the wheel? The only thing you can possibly do is make it your own.''
In order to do that, he thought about how he saw the setting and who the characters were: rival gangs. Robbins's jazz-ballet form was about upward movement — balletic leaps, for example. Steel found that odd, looking at what men actually do when they're preparing to fight. ''If you look at boxers or capoeiristas, the first thing they do is drop their weight, which is the opposite of what Jerome Robbins did. So that gave me a choreographic starting point for a fresh approach. Lowering the center of gravity, using the floor much more, gives it a masculine, testosterone-fueled, fighting feel.''
He is also taking account of the very large space in which the show will be staged — the Felsenreitschule, a former riding school. ''It's like a football pitch,'' says Steel. ''That sets parameters as well.''
The director, Philip William McKinley, is keeping the original setting of the story, which was contemporary in 1957, but which makes ''West Side Story'' a period piece nearly 60 years later. ''It is set in the '50s,'' says Steel, ''but I'm not a slave to that in terms of the style of the period. But for things like the 'Mambo,' I will give a strong nod to it. You're using dance and movement to express things that aren't about the period — it's about expressing emotions and communicating through that movement.''
McKinley agrees. ''It's not about doing the steps,'' he says. ''It's what you're saying with the choreography. The characters tell their story through their movement. When they dance, you see the inner monologue happening. A movement is not just a movement, it is telling you an inner story. That's why I like to work with Liam so much — it's not just choreography, there's a story that's happening.''
That means that the dancers need also to be good actors — and singers as well. ''There's not a musical that requires triple-threat performers more than this show,'' Steel says. ''You cannot get away with people who can't dance, and they need to be able to sing, and they need to be good actors. And I didn't want twirly dancers onstage — I wanted men who looked like men and moved like men. And women who looked like women and moved like women.''
Finding those triple-threat performers meant a wide-ranging casting process, with calls going out to the contemporary dance world around Europe and auditions held in Salzburg, Berlin and London. ''I was seeing 30 people at a time every half hour,'' he says. ''I saw over 200 people in London, and that was on a short list.''

The choreographer Liam Steel, Whitsun choreographer
Credit: Anne Zeuner / SF
Cecilia Bartoli
'I love to break down boundaries'
Cecilia Bartoli's fifth season as artistic director and star of the Salzburg Whitsun Festival is one of continuity and innovation. Her choices of roles since 2012 — Cleopatra in Handel's ''Giulio Cesare in Egitto,'' Bellini's Druid priestess ''Norma,'' Rossini's ''La Cenerentola'' and the Euripidean priestess in Gluck's ''Iphigénie en Tauride'' — have also been thematic programming choices. This year's program, however, differs in that the main production — a new one of ''West Side Story'' — is the first to come from Broadway rather than 18th- and 19th-century European opera houses.
''As the first woman ever in this position,'' says Bartoli, ''I am, of course, interested in picking out themes that are related to women — and since, historically, most female subjects in art were treated by men, the result is often an interesting image of women refracted through male thought. You might say you often learn more about men and their attitudes than about women.''
Her aim is to explore the themes through a variety of art forms. ''We have created symphony and chamber music concerts, newly staged opera productions, plays, exhibitions, films, dinners and a collaboration with the legendary Salzburg Marionette Theater,'' she says. ''Whitsun in Salzburg certainly requires some church music, and I am most delighted to have brought ballet back to the Salzburg Festival — wonderful companies from the Mariinsky, from Hamburg and Stuttgart.''
This year, in commemoration of Shakespeare's death 400 years ago, the festival will take ''Romeo and Juliet'' as its through line. In addition to ''West Side Story,'' which translated Shakespeare's tragedy to 20th-century New York, the tale of doomed lovers will be told through concerts, ballet, theater and cinema.
The Broadway classic — a collaboration by its composer, Leonard Bernstein, and choreographer, Jerome Robbins, with a book by Arthur Laurents and lyrics by Stephen Sondheim — reflects this mix of disciplines. ''I love the unexpected and to break down boundaries,'' she says. The work, she explains, ''encompasses my idea of the festival perfectly — something made up of theater, opera, dance and literature, lightness and profundity in form, feeling and subject matter. And, of course, the social and political questions it raises have become so incredibly topical again.''There is also her attraction to the role of Maria. ''Like most people,'' she says, ''I have known the songs from 'West Side Story' since my adolescence, probably even better than some operas. And I still like to think of myself as the simple, warm-hearted, dreamy girl from next door, which for me makes Maria into an absolute dream role.''
To sing Tony opposite Bartoli, ''we decided to cast an opera singer,'' she says, the American tenor Norman Reinhardt, who will also be singing Nemorino in Donizetti's ''L'elisir d'amore'' at the Hamburg State Opera in June. Karen Olivo (Anita) and George Akram (Bernardo) come from Laurents's 2009 revival of ''West Side Story,'' for which Olivo won a Tony. Dan Burton plays Riff.
Of her approach to singing Maria, Bartoli says: ''Bernstein himself described Maria's voice as girlish and lyrical in the high, then again just as dark and mature in the low register. I will need to try to find this balance, and to make it sound simple and natural, straight from the heart! This requires good technique with fine and real voice control, but it should still seem natural and remain intelligible, with colors and shades of emotion.
''I will try my best to match Leonard Bernstein's dream, following his words: 'There is an ideal way of hearing ''One Hand, One Heart,''' for example. I've always kept in the back of my mind a feeling that maybe someday I could hear that song sung the way I've always wanted it to be sung, which is quite slow, with real operatic voice control and quality.''
Her five-year term as artistic director has been renewed until 2021, and she looks to build on the foundation of her first mandate. ''The audience figures and the economic success have risen sharply,'' she notes. ''We will continue to collaborate with international stars while integrating local forces as well. But what I am most proud of is that over the five years we have established a feeling of continuity and a team spirit with all those working at the festival, something that is vital in order to create a product of excellence within an extremely short and intense period of time.''
'Like many people, I have known the songs of ''West Side Story'' since my adolescence'

Cecilia Bartoli, the Salzburg Whitsun Festival's artistic director
Credit: ROLEX / Hugo Glendinning